Home Learning Support – Year 2
Home Learning - Week Beginning 18th May 2020
English
Look at the images, think carefully about your senses. Imagine you are there in the different pictures, write a detailed description of each one. Think about what you can see, hear, smell and touch. Do this over the week. Remember to include capital letters, full stop and neat handwriting.
Miss Morgan's model.
Nestled amongst the trees was a long, winding path that led to the forest of hope. Nervously, I began to tread along the wooden path. With each step the creaks became louder and louder. My hands tightly grabbing onto the rough green rope guiding me along the trail. I looked ahead, surrounded by misty fog and green trees, I really wasn't sure if I was ever going to make it. I could hear the birds singing in the distance, getting quieter and quieter with every step I took.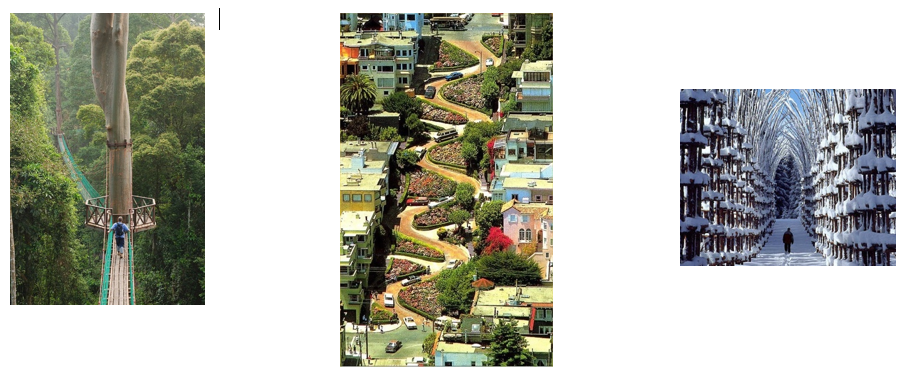 Maths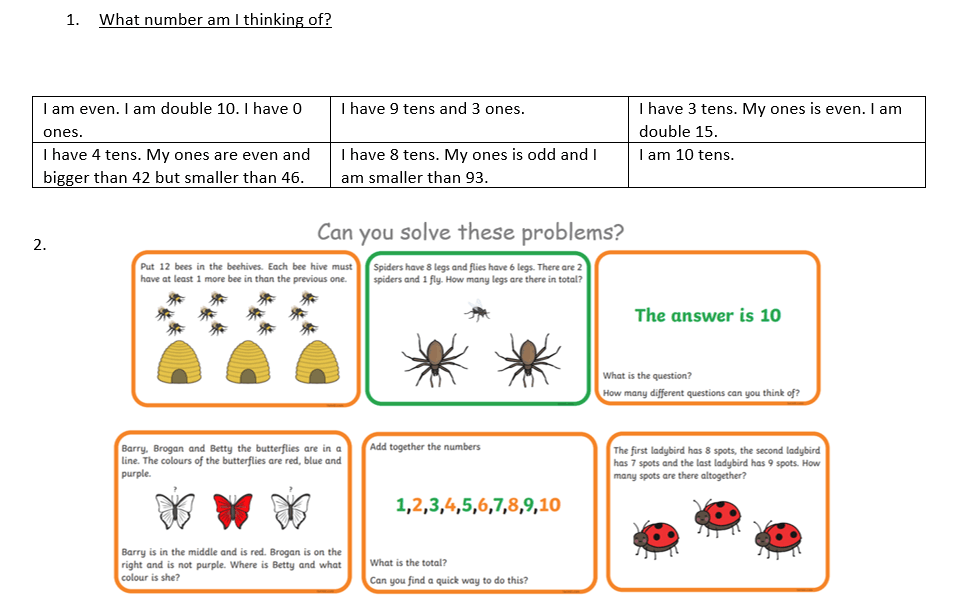 Can you find the fractions of these numbers?
½ of 12 = ¼ of 20 =
½ of 30 = ¼ of 40 =
½ of 26 = ¼ of 24 =
Science
Go on a 'bug hunt' in your garden. How many different minibeasts can you find? Write some descriptive sentences about the minibeasts. Try to use at least one adjective in every sentence and try to put a verb and an adverb in your sentence too. E.g. The beautiful blue butterfly fluttered quickly around the small garden.
Art

Home Learning - Week beginning 11th May 2020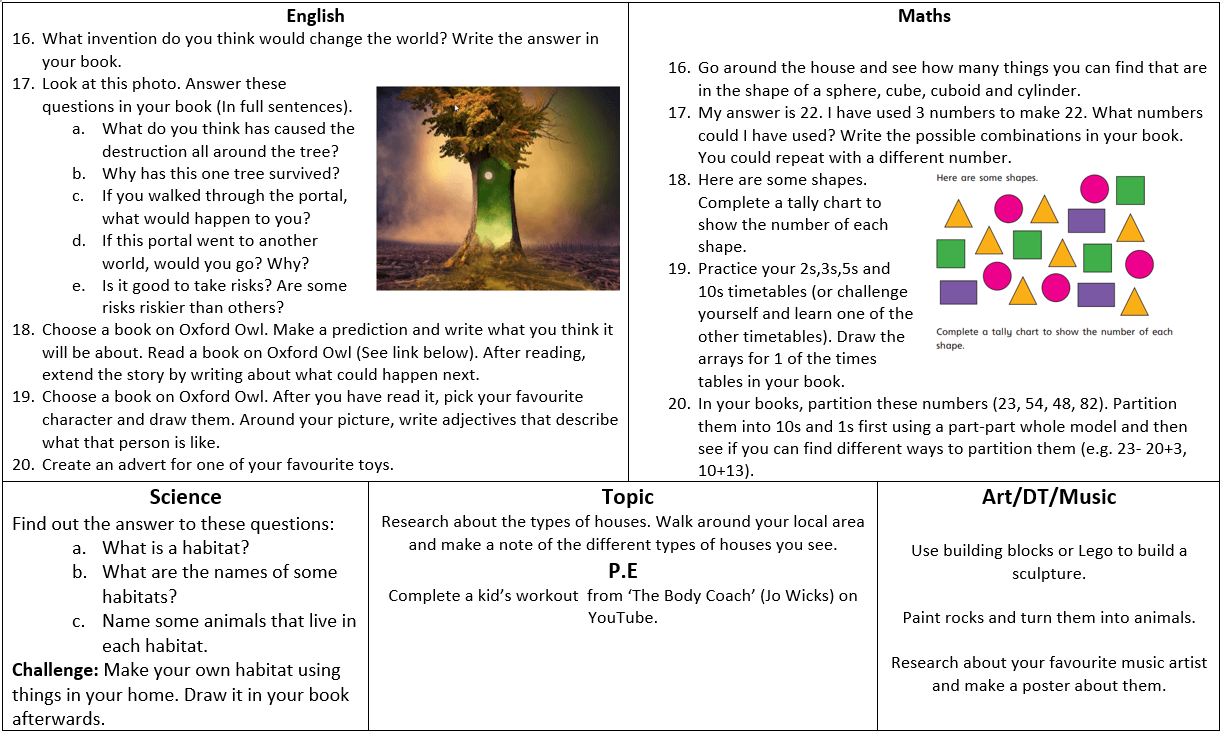 Home Learning - Week beginning 4th May 2020
https://www.oxfordowl.co.uk/for-home/find-a-book/library-page/?view=image&query=&type=book&age_group=Age+5-6&level=&level_select=&book_type=&series=# Create free login.

Home Learning - Week beginning 27th April 2020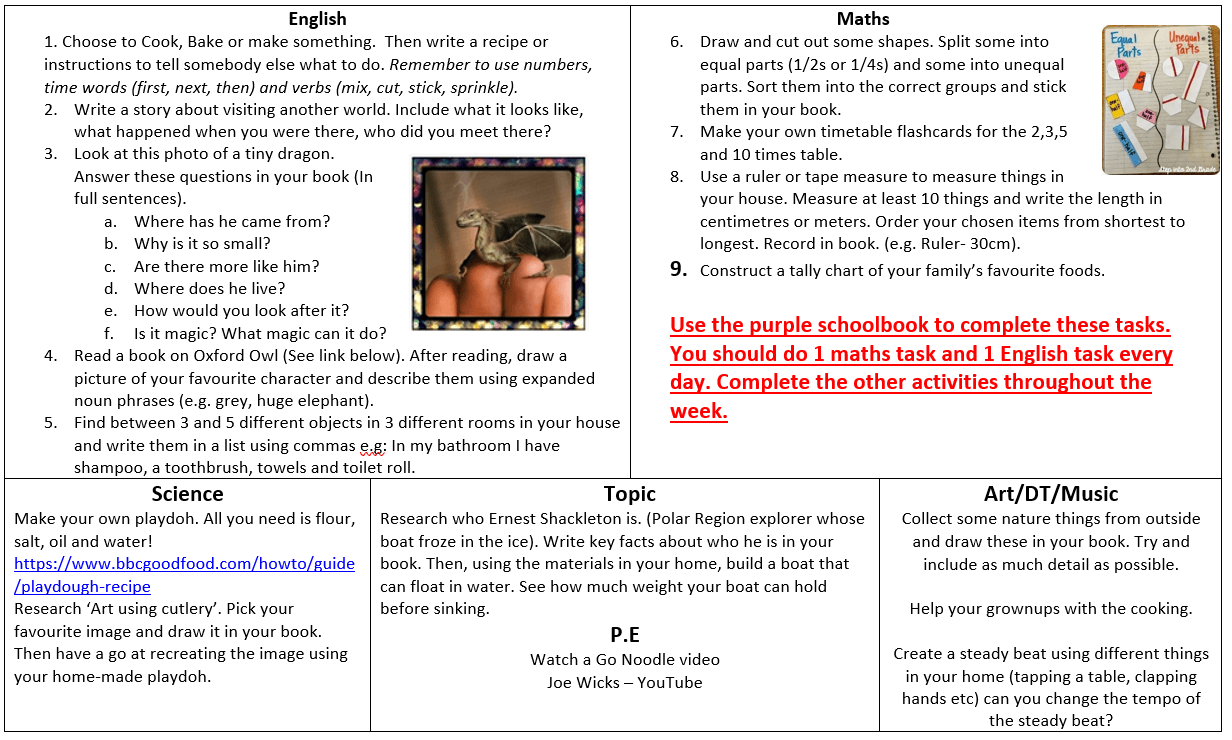 Home Learning - Week beginning 20th April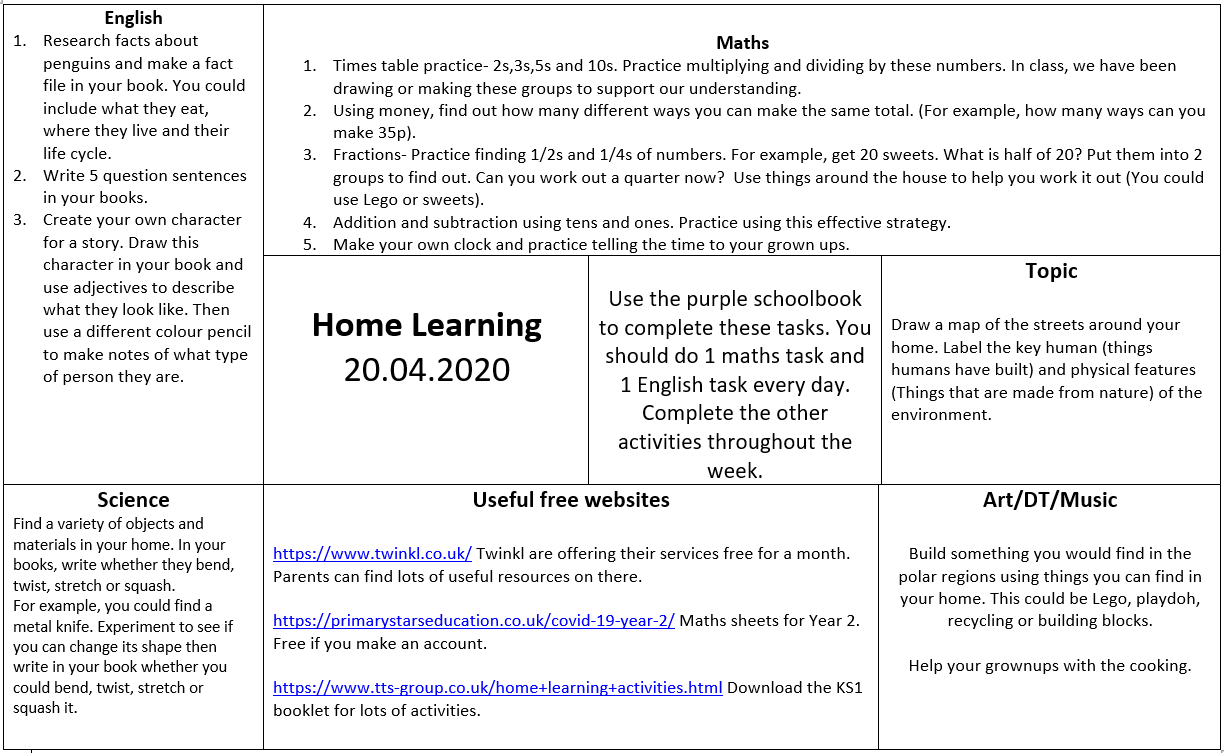 | Name | |
| --- | --- |
| Answer-Booklet-Sindys-Great-Escape.pdf | Download |
| Answer-Booklet-Tricky-the-Troll.pdf | Download |
| Answer-Booklet-Victorians-at-the-Seaside.pdf | Download |
| KS2 Arithmetic Test-3.pdf | Download |
| Reading-Booklet-Sindys-Great-Escape.pdf | Download |
| Reading-Booklet-Tricky-the-Troll.pdf | Download |
| Reading-Booklet-Victorians-at-the-Seaside.pdf | Download |
| Year 1 Maths home learning pack.pdf | Download |
| Year 2 -Arithmetic-Test-6.pdf | Download |
| Year 2 Arithmetic Test-1.pdf | Download |